All Post
Q4 2023 Market Update: Where Do the Magnificent Seven Stand?
By Cera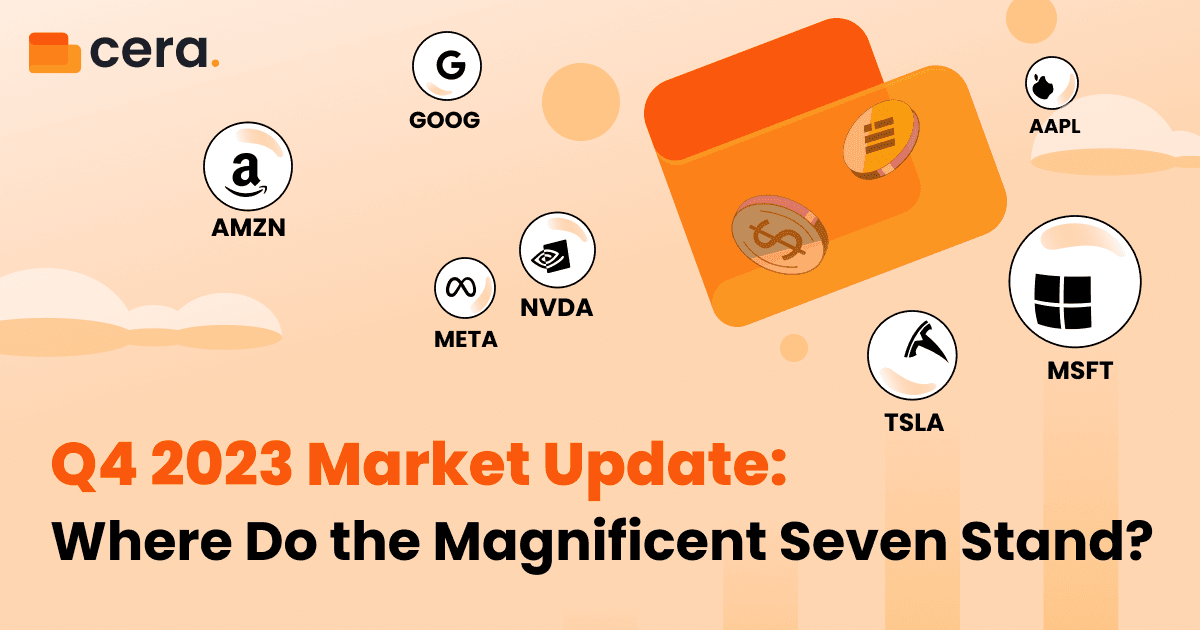 When it comes to understanding the market, following the top performers is essential for investors to follow current trends and directions. The performance of the market as a whole has always been anchored by the seven biggest companies: Tesla, Apple, Amazon, Microsoft, Nvidia, Google, and Meta. Collectively referred to as the Magnificent Seven, these companies make up the lion's share of the S&P 500 and NASDAQ.
With 2023 comfortably in Q4, let's dive into an overview of the Magnificent Seven throughout the year.
Across-the-Board Performance
One relevant metric is the average price-to-earnings ratio (P/E), which is an indicator of how much investors are willing to pay per dollar of corporate earnings. Compared to a historical average of 15-18, the current average P/E of the Seven sits at 112, an incredible testament to their growth. Amazon leads the pack at 312.
Amazon (AMZN) has enjoyed a successful 2023, having beaten three of the last four quarters and averaging a surprise rate of 41%–the highest among the Seven. With three big beats in a row, Amazon looks poised to continue to surpass expectations–unless analysts start ramping up their predictions for Amazon big time.
Tesla (TSLA) continues its upward surge by registering its 10th beaten quarter in a row. A surprise of 7.9%, while behind Amazon's whopping 41%, is still solid, and represents steady growth. Despite 10 straight quarters, however, analysts are doubtful about an 11th. The ball is in Tesla's court to continue the trend.
Microsoft (MSFT), the third of the Seven's biggest earners, has had a stable track record, with one missed quarter in the last five years. Analysts are leaning towards another optimistic quarter for Microsoft to end the year. If things go smoothly for Microsoft, they may be in position to set all-time highs.
Nvidia (NVDA), Google (GOOG), Meta (META), and Apple (AAPL) have also done remarkably well, with Nvidia posting 184% return year-on-year and Meta nearly doubling in value.
The Magnificent Seven have altogether done very well for the year, and their charts show no signs of slowing down. With 28% of the S&P 500 on lockdown, it's easy to see why these share leaders dominate the market. Will 2024 continue the trend or will we see a turning of the tide?